The complexities of tree felling at Bwlch Nant Yr Arian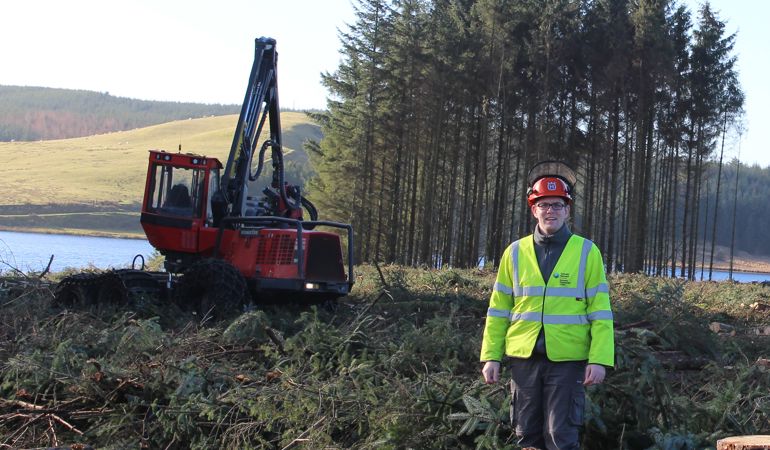 Phytophthora Ramorum has devastated Larch crops across Wales, with 6.7 million trees felled to date
The disease is transmitted by airborne fungal spores and infect the bark and needles of the trees. A third outbreak has been confirmed at the Bwlch Nant Yr Arian Visitors Centre and Natural Resources Wales has been tasked to fell the infected trees.
The morning of September 17, will be one that I won't forget in a hurry
Little did I know that an email in my inbox titled "Nant Yr Arian – P.ramorum return" would have such an impact on my job for the next 12 months.
After reading the Statutory Plant Health Notice which outlined where the disease had been found, I knew this would be a difficult area to fell. The steep slopes make the trees hard to reach, not to mention the nearby visitor centre and its myriad of trails which are treasured by locals and visitors alike!
The first task I had was to define the exact area which I needed to fell, we call this a 'coupe'. I fired up NRW's 'Forester GIS' (Geographic Information Systems) so I could study the geographical data and I called Greg Jones - our Forest Planner for Mid-Wales.
After a lengthy discussion to ensure that any trees remaining would be windfirm (able to withstand strong winds) we finalised the shape of the coupe.
The gradient of the bank, which the trees are on means that I cannot use a conventional harvester and forwarder
With the coupe shape agreed, my next task was to consider how to get the trees felled and stacked at roadside ready for removal to timber mills across Wales.
The gradient of the bank is so steep I can't use a conventional harvester and forwarder to harvest the trees, so every tree on site has to be felled by a chainsaw and removed via a cable-crane winching system. This method is slow and complex thanks to short days and unpredictable winter weather.
I couldn't think of a more comprehensive list of constraints
With the details now finalised, the final coupe plan landed in my inbox which detailed all the constraints and hazards associated with this felling coupe. Reading through it over several mugs of tea, I couldn't think of a more comprehensive list of constraints for any other coupe I have worked on.
Firstly there is the visitor centre I mentioned earlier with its footpaths, mountain bike trails and running routes which may need to be closed or diverted for the felling works.
Secondly there is a farm at the head of the valley whose only access is through the felling coupe, I will need to ensure they are aware of the plans and kept informed. There are also historical ground features which are a legacy of the mining industry, I need to ensure we protect these.
Finally, although a sweep of the site didn't reveal any conservation concerns, I will need to be aware of any potential issues throughout the felling process.
Everything is in place
With the final plans submitted to our civil engineering team to prepare the roads for the haulage lorries, our sales team ready to ensure the timber can be sold, press releases sent and social media posts posted, everything is now in place for the felling to commence in Early January.
About Tom Whitchurch
Tom started began working with the Forestry Commission Wales as a site supervisor in February 2013, he continued in the same role when NRW was created. Tom became Contract Manager for Mid-Wales in the summer of 2015.  
Look out for Tom's next blog - A progress report; Are we on track?