Escape outdoors with our team in North West Wales
Our sites in Newborough, Coed y Brenin and Gwydir Forest Park had over 710,000 visitors this summer. By the end of the year, we expect up to a million visitors will have enjoyed the health and wellbeing benefits from being outdoors, and helping to boost local the economy.
With over 360km of purpose built waymarked trails, for biking, running, orienteering and walking in North West Wales, our recreation team certainly have their work cut out!
This hard-working team are responsible for making sure our sites are looked after so visitors have a great experience and stay safe. They've completed brilliant projects, worked with fantastic charities, local businesses, community groups, event organisers, film crews and volunteers.
Here's a glimpse at what they've been up to this year…
Make time for the great outdoors
By Nia Davies (Recreation Ranger), Grace Sanderson (Visitor Centre assistant and Recreation Ranger) and Megan Thorman (Visitor Centre Assistant).
It's been another eventful year for us at Coed y Brenin. We have hosted five running races, three mountain biking events, three mountain biking demo days and many running and biking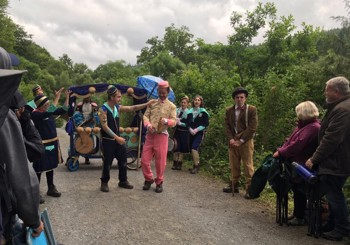 courses.
As Visitor Centre assistants we've also organised theatre shows, like the brilliant production of 'The Tempest' by Taking Flight Theatre (pictured), a market, Junior Rangers activities and a visit from all our local Cylch groups.  
Our Christmas Fair will be on Sunday 26 November. There'll be local food and craft stalls, Santa's Grotto and children's craft activities.
Our running trails have been particularly popular, with over 2800 runners taking part in the races at Coed y Brenin. Our tenant business, Run Coed y Brenin, also set up a children's running club this year called 'Academi' which has been a great success!
The increase in numbers and events does mean we need to carry out more regular maintenance and improvements. We've carried out resurfacing work on the running and walking trails to make sure they're suitable, and two electric vehicle charging points were installed in the car park as part of Carbon Positive Project.
We hope that working with different people, organisations and business will help encourage more local families to come and enjoy the forest park and the surrounding areas.
Keep calm and go mountain biking
By Andy Braund (Mountain bike Ranger) and Grace Sanderson (Visitor Centre assistant and Recreation Ranger).
It's been an exciting year for mountain biking in North West Wales! As well as the day to day management of the mountain bike trails, we have also been working on several new projects.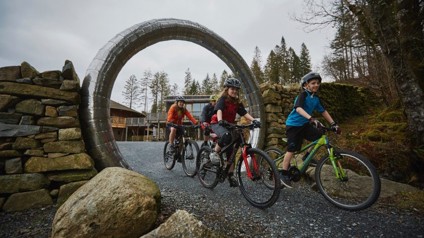 We're excited to announce is that we have been awarded Visit Wales funding to extend the MinorTaur trail. This is a great trail for families and young people used as part of events, coaching and fun days out.
We used data from our trail counters in our bid for the funding. It showed that the MinorTaur trail at Coed y Brenin is ridden over 36,000 times per year. In fact, it is the most popular cycling trail on Welsh Government Estate. We also showed how previous improvements to the trail lead to more visitors coming to cycle here, and staying at Coed y Brenin for longer.
One of the other projects we worked on this year was 'Temtiwr'. This was our first ever women's mountain biking weekend, designed to encourage women of all abilities to come along and give mountain biking a go.
This was a collaboration between us at NRW, Beics Brenin, Dyfi Events and Welsh Cycling. It offered the opportunity to participate in coaching, workshops, guided rides and a Q&A session with former Downhill and Enduro Champion Tracy Moseley.
Feedback has been very positive and we're in the process of planning next year's event!
Happiness is, getting outside and using our trails
By Miranda Grant, Recreation Ranger for Gwydir Forest Park.
I get to look after the beautiful, and busy, Gwydir Forest park which has a great variety of trails - and we have recently added two new orienteering courses.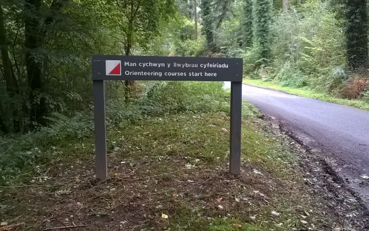 There is a Green course and a short Orange course which start in Betws y Coed and cover the beautiful Llyn Elsi area. Maps are available to buy from outdoor shop and the Tourist Information.
We are also improving the Coed Tan Dinas Boardwalk in Betws y Coed, which will extend the life of this very busy facility for some years.
To encourage people to come and visit the woods surrounding the village, and try and encourage people to use the more remote waymarked trails, we are updating information panels in the centre of Betws-y-Coed. We have been working with the local Tourist Information Centre to help promote our trails and sites around this area.
Every year we support a variety of event organisers who seek permission to use our forest and National Nature Reserves. Most recently we have had the Llanrwst Triathlon, the Treffiw Mill Fell race, and Wales Rally GB. These can take quite a bit of planning, mainly making sure the trails are up to standard and free from hazards, and sometimes closing off areas for visitor safety.
Keeping our special places special
By Geraint James, recreation ranger for Llanddwyn Island and Newborough Forest and National Nature Reserve (NNR), Abergwyngregyn NNR and Beddgelert Forest.
Looking after such beautiful sites can be hard work, but getting local communities involved can make such a difference. This year we held three volunteer days with Keep Wales Tidy where people have been helped maintain the paths on Llanddwyn Island. We also held two evening patrols in Newborough Forest Park over the summer holidays, looking out for anti-social behaviour and generally spreading the word on how everyone can help look after the area.
It's been an interesting year, hosting a variety of events including a Sled Dog Race in January in association with the British Sleddog Sports Federation, the 5k Resolution Run in association with the Stroke Society, and the Sandman Triathlon in September. We've also hosted filming companies for programmes on Netflix, BBC, S4C & ITV.
We've also got new signage in Beddgelert Forest and Abergwyngregyn, and we'll be installing a new orienteering route in Newborough Forest over the winter.

Wow, looking back, it really has been an action-packed year for us as a team and for all our visitors! We're proud of what we have achieved, and to provide facilities that will encourage more people to get active and enjoy the outdoors.