Breaking down the barriers at our visitor centres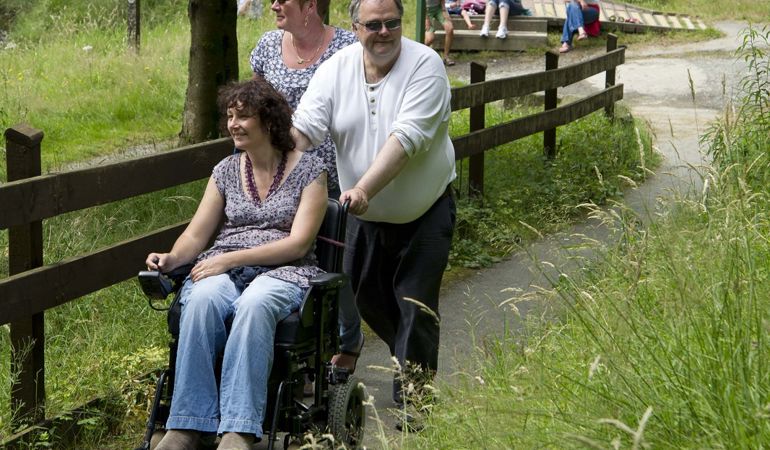 The natural world should be for everyone, and when it comes to getting outdoors and experiencing our beautiful wildlife and environment we believe ability shouldn't be a barrier.
Our Recreation, Health and Education team work hard with our site managers to make sure our beautiful Nature reserves and Woodlands can be accessed by everyone. Many of our sites have accessible and inclusive features that give everyone the opportunity to get outdoors and experience some of the breath-taking waterfalls, mountains and coastlines we have here in Wales.
Here Rachel Parry our Recreation Advisor give us a snapshot look at three all inclusive sites we have right here on our doorstep...
Garwnant
Situated on the A470 14 miles South of Brecon the beautiful woodland and visitor centre at Garwnant was recently included in the Rough Guide to accessible Britain. You can take in the beautiful views along the Willow trail which is barrier free and allows easy access to the forest for visitors with wheel chairs, electric buggies or pushchairs. The walk is a half a mile and a gentle accessible trail which crosses several streams before going through a willow tunnel on the way back to the visitor centre.
It also hosts a Changing Places toilet at the centre which was donated by Mountway a company based in the nearby town of Tredegar. The toilets cater for people with profound and multiple learning disabilities as well as other serious impairments such as spinal injuries, muscular dystrophy and multiple sclerosis which often require extra facilities that allows them to use the toilets comfortably.
Our toilets are different to standard disabled toilets as they come with extra equipment, including a height adjustable changing bench, hoist and more space to meet the needs of more visitors.
You can visit the Garwnant page on our website here to plan your visit.
Coed y Brenin
Making  its name in the 1990s as Britain's first purpose-built mountain bike centres, Coed y Brenin was awarded the Gold Award by Visit Wales for attractions that make an exceptional effort to create an enjoyable and memorable experience for their visitors. Visitors come to enjoy the eight purpose built mountain bike trails and other activities such as walking, trail running, orienteering and geocaching.
With stunning views over the valleys and woodlands, the MinorTaur mountain bike trail is suitable for riders using bikes that are adaptable.
You can also take in the beautiful views along the river Eden along our Afon Eden walking trail, which meanders down to a riverside picnic site. The trail is built to an accessible standard and is 2m wide so that its suitable for both wheelchairs and pushchairs. It also includes an animal puzzle trail for younger visitors! You can walk back along the same path or take the slightly steeper (but still pushchair friendly) route alongside the river back to the visitor centre.
Blue badge parking bays are available in front of the visitor centre main entrance and next to picnic tables in the main car park. The visitor centre has a lift for easy access amongst all three floors, as well as including accessible toilets.
You can keep up to date with news and events at Coed y Brenin by following the site on Facebook.
Bwlch Nant yr Arian
Well known for its long-established tradition of daily feeding of Red Kites (Wales National Bird of Prey) the Bwlch Nant yr Arian Visitor Centre sits at the head of a dramatic valley and has stunning views of Cardigan Bay and the Cambrian Mountains.
The feeding of the Red Kites can be seen from the Barcud trail which goes around the edge of the lakes and is suitable for wheel chairs. There are no steps, the gradient is 10% or less and has Resting bays on the uphill sections.
There is also wheel chair access to the visitor centre and cafe- the menu includes homemade soups and a delicious choice of cakes and has facilities for the hearing impaired in the cafe. The centre has a Total Communications menu for people with learning, speech and language difficulties, as well as a disabled toilet with shower facility. Disabled parking is also available on site along with a courtesy wheel chair.
You can keep up to date with news and events at Bwlch Nant yr Arian by following the site on Facebook.
If you would like more information on the many sites and trails we offer that are accessible to everyone, you can visit our "Places to visit for all abilities" web page which has a summary of the accessible visitor centres and routes that we offer across Wales.