Back from the brink? A look at the Marsh Fritillary butterfly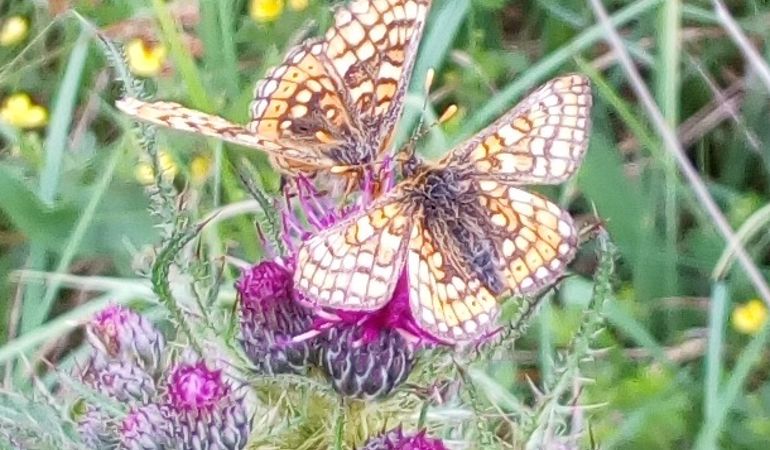 with Miguel Ortuño-Sanchez
The Marsh Fritillary butterfly, once widespread in Europe, has declined dramatically during the last century.
Loss of habitat is the main cause of its decline. The Marsh Fritillary has become extinct over 60 percent of its former range in the UK over the past 30 years.
Natural Resources Wales is doing its best to give the species a helping hand in one of its last remaining strongholds – south and west Wales.
Conservation work focuses on maintaining current populations by caring for the habitats they depends on – wet grasslands or rhos pastures as they are called.
Because Marsh Fritillary butterflies live in groups of connected colonies, the loss or fragmentation of their habitat can have a significant impact on their long-term survival. Recolonisation becomes less likely when habitat patches become more and more isolated. So connectivity is the name of the game.
For example….Marsh fritillaries used to be found throughout Ceredigion but the species has now become extinct in many areas of its former range. Although the remaining patches of suitable habitat for Marsh Fritillaries in the county are relatively small they are, in most cases, in very good condition. And, the distance between patches is quite small which helps individuals move between populations, increasing the chances for their survival in the long term.
Rhos Talglas Special Area of Conservation (SAC) along with Rhos Llawr Cwrt SAC in Ceredigion support some of the largest remaining internationally important populations of this butterfly. Natural Resources Wales has agreements with the land owners to ensure the best possible management.
The land is grazed by Welsh mountain ponies and a large area of Molinia meadow is mown in winter to help establish new growth, and to encourage ponies to graze. One of the main objectives is to favour the growth of Devil's-bit Scabious, the main food plant for the butterfly. Future plans for this site include an ongoing programme of removing conifers and other invasive species to prevent habitat loss.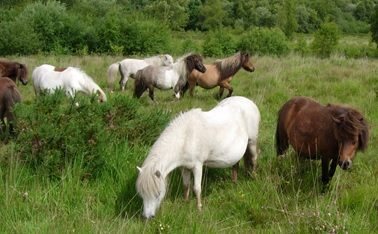 Natural Resources Wales works on similar projects at other Sites of Special Scientific Interest and SACs in Ceredigion and in other parts of Wales. But the habitat outside these protected sites also needs to be maintained to safeguard Wales as one the main strongholds for Marsh Fritillary in Europe.
Without this concerted conservation action, the populations of Marsh Fritillary would probably decline due to habitat fragmentation and could disappear from west Wales in just a few decades. It's vital that we continue to work with landowners and others to protect the habitat and ensure the long-term survival of this butterfly.
You can learn more about the Marsh Fritillary and other conservation projects by visiting the websites naturalresources.wales  or butterfly-conservation.org